Animal Studies Games List
This game teaches about animals.
Learn about animals of all kinds and watch educational video spots narrated by animal experts.
1
rate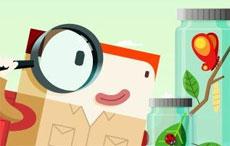 Your child will enjoy a fun world with a lot of characters and information on nature and space.
4.5
rate
Have fun learning about spring with George, plant bulbs for flowers and learn about animals.
-
rate
In this game your child will be able to learn about the natural habitats of some animals and as well as what the area around them is like and why.
-
rate
Your child can build their very own eco system in the jungles of Borneo by adding plants and animals together.
-
rate
The nasty Hacker is scaring away all the animals and your child needs to bring them back to help save the ecosystem.
-
rate
Help Diego rescue the lost pups for 3 different animals as your child navigates through and around obstacles to get them home.
-
rate
Dora and friends are going riding but the horses have run away from bandits, can your child help her find them again?
-
rate
Help Baby Hazel on the farm as she visits her Uncle's place while your child helps them get ready and look after the animals.
-
rate
Your child can explore the rainforest and learn about the plants and animals of this amazing region of the world.
-
rate
It is time to race against Zak and your child can equip their car with special animal bonuses to overcome obstacles and try to win.
-
rate
Fang needs co stars for his next video and Sci Girl is looking for new animals to be in the movie, and your child can help find those animals in the local area.
-
rate
The Kratt Brothers are off an on adventure but they need special suits, and your child can help Aviva make them up from special animals.
-
rate
Your child will be able to manage their very own stable and tend to the needs of the beautiful horses under their care in Howrse.
9.5
rate
Head to the outdoors with your child and hunt for animal cards both common and rare to add to his/her collection in Perfect Earth Animals.
9.5
rate
Featured Games
Adventure Academy From the creators of one of the world's leading learning program, ABCmouse, Adventure Academy is a brilliant virtual world game that's cleverly designed to be both fun to play and also educational. It covers a wide range of topics from science and math to English and is suitable for kids between the ages of 8 to 13.
ABCmouse Welcome to a very comprehensive set of games and activities where you child can learn about the alphabet, numbers and much more.
Roblox Let your child unleash his or her creativity in this amazing voxel-based, building simulation game, Roblox.
Reading IQ Reading IQ is a digital, interactive library app that's specially designed for kids under the age of 12. With over 1000 specially-curated and child-friendly titles as well as over 700 voiced books, your child will be able to hone their reading and listening skills, bringing these skills to the next level.
Wizard 101 Your child will be able to play as an up-and-coming wizard, explore a beautiful fantastical world, and meet new friends in Wizard 101.
Petra's Planet Petra's Planet teaches social studies, geography and culture within a virtual world setting.
Statistics
Games221
Articles62
Surveys5
Blog Posts264
Users267
User Reviews3
Find us on Facebook