Reading Games List
Games that teach reading.
Learn about animals of all kinds and watch educational video spots narrated by animal experts.
1
rate
Children can explore the world with their pet puffle and discover games and new friends.
-
rate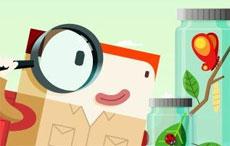 Your child will enjoy a fun world with a lot of characters and information on nature and space.
4.5
rate
Enjoy a fun world with its own school and lots of fun games to enjoy.
9
rate
Your child can explore the world playing math and language games.
-
rate
Based on the lessons of Fizzy's Lunch Lab, Super Market Mania is a fun game for your older elementary school child that teaches nutrition in a fun interactive virtual board game, set in a super market.
10
rate
Bring in this season of growth as the Monkey Curious George leads your child through the basics of planting bulbs and watching them grow after the rains come. Meet different animals and count the bunnies as they come out in the sun.
1
rate
Your child can sing along with Dora and her friends in a musical game where they can change what instrument they hear and how fast the song goes.
-
rate
Your child can write a story or read others created by people all over the world.
-
rate
Welcome to a very comprehensive set of games and activities where you child can learn about the alphabet, numbers and much more.
5.3
rate
Rather than a game, this website is full of books read by celebrities and media personalities for your child to listen to.
-
rate
Marcus is playing in the Halfpipe and he is looking to collect some words for his friends, your child can help him sort them out.
3
rate
Reader Valley is under attack by the Eraser and your child will need to use their word skills to stop him and fix the problems.
10
rate
There are Magic Tricks being performed and the characters need your child's help as they learn about lots of different words.
-
rate
Let your child be immersed in the beautiful worlds in JumpStart Online as they learn about math, science and more.
10
rate
Featured Games
ABCya.com ABCya.com is a brilliant educational website that uses gamification to encourage and promote fun learning. The site offers entertaining lessons from Kindergarten to Grade 6 based on the Common Core Standards, covering wide-ranging topics under all the important subjects like English, Maths, Science, and Social Sciences.
WhiteHat Jr. WhiteHat Jr is a coding program that offers live online coding classes that are designed to teach kids between the Grades 1 to 12 the skills they'll needed for coding as well as the ability to code for websites, apps and more.
IXL IXL is an educational site which contains quiz-like games for your children aged around 2 to 18. It covers a wide range of topics from math to languages; from the sciences to social studies, making it a suitable supplementary tool for educators, especially those involved in homeschooling.
Education.com Education.com is an e-learning platform similar to ABCmouse. Here, your child can learn everything they need in accordance to the syllabus (Common Core) from PreK up to 5th Grade in entertaining ways.
Stride K12 Stride K12 is an online educational program offering personalized public and private school curriculum that is perfect for homeschooling and online learning, as well as a host of other features, giving kids the tools they need to learn in their own unique ways, at their own pace, and at their own place!
Muzzy BBC Muzzy BBC is a fun language course designed for kids using animated stories, fun activities, and games. It opens the path for kids to become bilingual, teaching them various languages like Spanish, German, French, and Korean.
Statistics
Games230
Articles87
Surveys5
Blog Posts316
Users391
User Reviews3
Find us on Facebook