Animal Studies Games List
This game teaches about animals.
Learn about animals of all kinds and watch educational video spots narrated by animal experts.
1
rate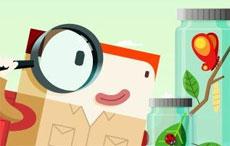 Your child will enjoy a fun world with a lot of characters and information on nature and space.
4.5
rate
Have fun learning about spring with George, plant bulbs for flowers and learn about animals.
1
rate
In this game your child will be able to learn about the natural habitats of some animals and as well as what the area around them is like and why.
-
rate
Your child can build their very own eco system in the jungles of Borneo by adding plants and animals together.
-
rate
The nasty Hacker is scaring away all the animals and your child needs to bring them back to help save the ecosystem.
-
rate
Help Diego rescue the lost pups for 3 different animals as your child navigates through and around obstacles to get them home.
-
rate
Dora and friends are going riding but the horses have run away from bandits, can your child help her find them again?
-
rate
Help Baby Hazel on the farm as she visits her Uncle's place while your child helps them get ready and look after the animals.
-
rate
Your child can explore the rainforest and learn about the plants and animals of this amazing region of the world.
-
rate
It is time to race against Zak and your child can equip their car with special animal bonuses to overcome obstacles and try to win.
-
rate
Fang needs co stars for his next video and Sci Girl is looking for new animals to be in the movie, and your child can help find those animals in the local area.
-
rate
The Kratt Brothers are off an on adventure but they need special suits, and your child can help Aviva make them up from special animals.
-
rate
Your child will be able to manage their very own stable and tend to the needs of the beautiful horses under their care in Howrse.
9.5
rate
Head to the outdoors with your child and hunt for animal cards both common and rare to add to his/her collection in Perfect Earth Animals.
9.5
rate
Featured Games
ABCya.com ABCya.com is a brilliant educational website that uses gamification to encourage and promote fun learning. The site offers entertaining lessons from Kindergarten to Grade 6 based on the Common Core Standards, covering wide-ranging topics under all the important subjects like English, Maths, Science, and Social Sciences.
WhiteHat Jr. WhiteHat Jr is a coding program that offers live online coding classes that are designed to teach kids between the Grades 1 to 12 the skills they'll needed for coding as well as the ability to code for websites, apps and more.
IXL IXL is an educational site which contains quiz-like games for your children aged around 2 to 18. It covers a wide range of topics from math to languages; from the sciences to social studies, making it a suitable supplementary tool for educators, especially those involved in homeschooling.
Education.com Education.com is an e-learning platform similar to ABCmouse. Here, your child can learn everything they need in accordance to the syllabus (Common Core) from PreK up to 5th Grade in entertaining ways.
Stride K12 Stride K12 is an online educational program offering personalized public and private school curriculum that is perfect for homeschooling and online learning, as well as a host of other features, giving kids the tools they need to learn in their own unique ways, at their own pace, and at their own place!
Muzzy BBC Muzzy BBC is a fun language course designed for kids using animated stories, fun activities, and games. It opens the path for kids to become bilingual, teaching them various languages like Spanish, German, French, and Korean.
Statistics
Games230
Articles79
Surveys5
Blog Posts309
Users371
User Reviews3
Find us on Facebook