Zack & Quack Moon Mission
by Adeaphon
Jun 4, 2015 | 0 Votes | 1 Played | 0 Reviews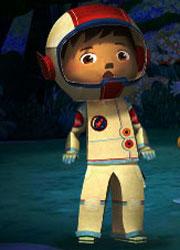 -
rate
Zack & Quack are trying to read but they can't because the moon is too dark, your child can help them make it light again.
Play Now
Similar Games
Played
People Also Played


Quick Brief

Zack & Quack are trying to read but they can't because the moon is too dark, your child can help them make it light again.


Educational Aspects


Space - Throughout the game there will be references and information on and about space. The information is basic but it is there and it helps to make the game more fun for your child.

Hand Eye Coordination- To collect the stars your child will need to move the spaceship around the screen using the up and down arrows. There are also obstacles in the way that they will need to avoid.

Numbers - Each time a star is collected it is added to the total at the top of the screen, while it may be difficult to count them you can work out what the numbers are with your child as you play.

Listening - To understand what your child needs to do they will have to listen to the instructions from Zack, who will also show them how to use the keyboard as well.
User Reviews
Please fill in the title and the full review fields
The review text can be a maximum of 10000 characters long
Please rank the game before submitting your review
The review title can be a maximum of 50 characters long
Featured Games
Adventure Academy From the creators of one of the world's leading learning program, ABCmouse, Adventure Academy is a brilliant virtual world game that's cleverly designed to be both fun to play and also educational. It covers a wide range of topics from science and math to English and is suitable for kids between the ages of 8 to 13.
ABCmouse Welcome to a very comprehensive set of games and activities where you child can learn about the alphabet, numbers and much more.
Reading IQ Reading IQ is a digital, interactive library app that's specially designed for kids under the age of 12. With over 1000 specially-curated and child-friendly titles as well as over 700 voiced books, your child will be able to hone their reading and listening skills, bringing these skills to the next level.
ABCya.com ABCya.com is a brilliant educational website that uses gamification to encourage and promote fun learning. The site offers entertaining lessons from Kindergarten to Grade 6 based on the Common Core Standards, covering wide-ranging topics under all the important subjects like English, Maths, Science, and Social Sciences.
WhiteHat Jr. WhiteHat Jr is a coding program that offers live online coding classes that are designed to teach kids between the Grades 1 to 12 the skills they'll needed for coding as well as the ability to code for websites, apps and more.
IXL IXL is an educational site which contains quiz-like games for your children aged around 2 to 18. It covers a wide range of topics from math to languages; from the sciences to social studies, making it a suitable supplementary tool for educators, especially those involved in homeschooling.
Statistics
Games230
Articles70
Surveys5
Blog Posts300
Users348
User Reviews3
Find us on Facebook