Fizzy's Lunch Lab Super Market Mania
Feb 26, 2015 | 1 Votes | 2 Played | 0 Reviews
10
rate
Based on the lessons of Fizzy's Lunch Lab, Super Market Mania is a fun game for your older elementary school child that teaches nutrition in a fun interactive virtual board game, set in a super market.
Play Now
Similar Games
Played
People Also Played
Quick Brief


Fizzy's Lunch Lab, a vibrant, fun and kid-friendly web-only series from PBS educates kids about the importance of good nutrition, a balanced diet, and physical activity. Super Market Mania is a fun game for your older elementary school child that serves to strengthen these lessons on nutrition while practicing reading, math and deductive skills as well.

Set in a super market, the fun characters of Fizzy's Lunch Lab, take your child along with them on virtual board game adventure in the super market. There your child moves along in the game with the help of a ticket that they get each time they answer a nutrition question correctly. To make the game more interesting, another character with a cart full of junk food follows them around in hopes of beating them to the finish line, in this case, the checkout counter.


Educational Aspects


Nutrition- Nutrition is taught in several ways with mini-games within the game. You child will be asked to compare to nutrition labels and identify which item has more calories, less sodium, more sugar and so forth. There is a time element that makes this more challenging. Your child will be asked to identify what food group a food item belongs in. Your child we be asked if certain items come from a factory or farm. As your child answers correctly they will be able to move forward in the board game. By chance sometimes they are asked to move a few steps back similar to other board games. Also, if your child does not answer in the time allotted, they will have to acquire a junk food item. The goal is to get the healthy ingredients for a recipe and not junk food items.

Reading- During this game your child has to read food lables and answer trivia questions on food so for younger children we recommend you read along with them. Older children will be able to read on their own.

Math/Deduction- When asked which food item has more or less of an ingredient like suhar or salt, your child will have to be able to recognize larger numbers and determine which is greater and which is smaller in comparison. Again we recommend your help out your younger child because this concept might be too difficult for younger children.





Mouse Control- To pick the correct answers in the trivia questions and so forth, your child will need to use the mouse and thus strengthens the skill.


Less Educational Aspects
None-
Special Features


Encouragement- Throughout the game whenever your child gets the answer right, he is rewarded verbally with "You Won" or "Good Job" statements of encouragement.

Extras- You can find offline activities to try with your child that server to strengthen the lessons learned here. In addition you can find a slue of healthy recipes that you can try out with your child here.
Fizzy's Lunch Lab Super Market Mania Blog
Feb 26, 2015
Based on the lessons of Fizzy's Lunch Lab, Super Market Mania is a fun game for your older elementary school child that teaches nutrition in a fun interactive virtual board game, set in a super market.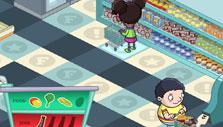 Read More
User Reviews
Please fill in the title and the full review fields
The review text can be a maximum of 10000 characters long
Please rank the game before submitting your review
The review title can be a maximum of 50 characters long
Featured Games
ABCya.com ABCya.com is a brilliant educational website that uses gamification to encourage and promote fun learning. The site offers entertaining lessons from Kindergarten to Grade 6 based on the Common Core Standards, covering wide-ranging topics under all the important subjects like English, Maths, Science, and Social Sciences.
WhiteHat Jr. WhiteHat Jr is a coding program that offers live online coding classes that are designed to teach kids between the Grades 1 to 12 the skills they'll needed for coding as well as the ability to code for websites, apps and more.
IXL IXL is an educational site which contains quiz-like games for your children aged around 2 to 18. It covers a wide range of topics from math to languages; from the sciences to social studies, making it a suitable supplementary tool for educators, especially those involved in homeschooling.
Education.com Education.com is an e-learning platform similar to ABCmouse. Here, your child can learn everything they need in accordance to the syllabus (Common Core) from PreK up to 5th Grade in entertaining ways.
Stride K12 Stride K12 is an online educational program offering personalized public and private school curriculum that is perfect for homeschooling and online learning, as well as a host of other features, giving kids the tools they need to learn in their own unique ways, at their own pace, and at their own place!
Muzzy BBC Muzzy BBC is a fun language course designed for kids using animated stories, fun activities, and games. It opens the path for kids to become bilingual, teaching them various languages like Spanish, German, French, and Korean.
Statistics
Games230
Articles87
Surveys5
Blog Posts316
Users391
User Reviews3
Find us on Facebook