Blog
Mar 26, 2015
Your child can enter a world full of math games puzzles and much more, with lots of fun activities that focus on different aspects of math as well as being able to have a pet and decorate their own pod.
Read More
Mar 16, 2015
In Fantage your child can explore a bright colorful world full of friends to meet and a school with math and English games to enjoy too.
Read More
Feb 26, 2015
Based on the lessons of Fizzy's Lunch Lab, Super Market Mania is a fun game for your older elementary school child that teaches nutrition in a fun interactive virtual board game, set in a super market.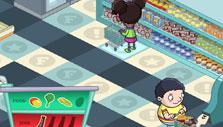 Read More
Feb 17, 2015
Games Educate Kids is the one place online that aggregates and reviews all the interactive educational games targeted to kids, in one easy to use organized site.

Read More
Feb 12, 2015
Take on quests, challenge players to games and learn new things in this exciting and fun-filled virtual world game, Secret Builders!
Read More
Feb 12, 2015
We are sorry to say that the game is no longer available. Please feel free to browse through our list of Games like Webbli World here: http://www.gameseducatekids.com/games_like_webbli_world
Read More
by Aethyna
Feb 11, 2015
Meet new people, make new friends, and best of all, create your own tunes in this fun multiplayer online game, Franktown Rocks!

Read More
Feb 11, 2015
Your child can become a superhero in a world where the villains leave mess on the streets and bully other kids. As a hero your kid's stand up to them, clean up the city and play educational games too.
Read More
Jan 13, 2015
Club Penguin is a fun place where your child can play a lot of different games, own pet's and decorate their own igloo too. Children can explore the world with their pet puffle and discover games and new friends.
Read More
Dec 26, 2014
Animal Jam is a an online playground for kids that love animals. Children create and customize their own animal characters. By exploring the globe,children stumble upon educational features like animal facts and animal related videos.


Read More
Older Posts
Blog Archive
Featured Games
Adventure Academy From the creators of one of the world's leading learning program, ABCmouse, Adventure Academy is a brilliant virtual world game that's cleverly designed to be both fun to play and also educational. It covers a wide range of topics from science and math to English and is suitable for kids between the ages of 8 to 13.
ABCmouse Welcome to a very comprehensive set of games and activities where you child can learn about the alphabet, numbers and much more.
Reading IQ Reading IQ is a digital, interactive library app that's specially designed for kids under the age of 12. With over 1000 specially-curated and child-friendly titles as well as over 700 voiced books, your child will be able to hone their reading and listening skills, bringing these skills to the next level.
Wizard 101 Your child will be able to play as an up-and-coming wizard, explore a beautiful fantastical world, and meet new friends in Wizard 101.
Petra's Planet Petra's Planet teaches social studies, geography and culture within a virtual world setting.
Animal Jam Learn about animals of all kinds and watch educational video spots narrated by animal experts.
Statistics
Games221
Articles62
Surveys5
Blog Posts266
Users273
User Reviews3
Find us on Facebook